4 thoughts among others
-
led by Resident Professor Kader Attia, with Françoise Vergès, Jacinto Lageira, Léa Gauthier, Ana Teixeira Pinto and Doreen Mende
past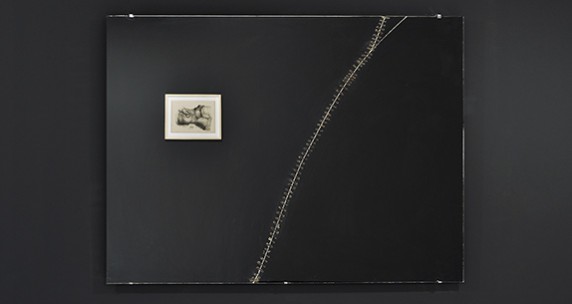 26 January - 6 February 2015
Event Type Workshop
Location Ashkal Alwan CHECK THE MAP
image: From the series Repair Analysis, 2013, series of repaired mirrors and 19th century lithographs, mirror, copper wire, 19th century lithographs, view at CCC Strozzina, Palazzo Strozzi - Florence, photo credit: Martino Margheri
MORE INFO
Attia's last publication
RepaiR
will serve as the canvas for this workshop, in which he will explore together with participants different thoughts on four fields he developed in his multi-thought project. As an artist, Attia always finds fascinating how things that are not Art can lead to Art. Textual or visual archives have this heavy absolutism, which has to become a beyond and/or a before Art. The aim is not to teach Art, but to share unexpected experiences, souvenirs, encounters, observations, imaginations and intuitions which one day could suggest a starting point for Art.
4 thoughts among others
includes four subtitles:
– The anthropocene, Nature's agency becomes institution
– Architecture, a body on both sides of the skin (or in and out of the skin)
– From the political to the intimate, music as sexual revolution
– History to do what ?
4 thoughts among others
is Workshop III of
HWP 2014-15: Setups / Situations / Institutions
.
Lectures are open to the public.
PROGRAM
THURSDAY, JANUARY 29
8:30 – 10 pm | public:
lecture by Françoise Vergès:
Anthropocene/Capitalocene: Destruction and Reparation
FRIDAY, JANUARY 30
8 – 9:30 pm | public:
lecture by Jacinto Lageira:
History to do what? / Contribution to a Cosmopolitic Æsthetics
TUESDAY, FEBRUARY 3
8 – 9:30 pm | public:
lecture by Léa Gauthier:
Bodies of repair: How the body is the complex stage of Repair?
THURSDAY, FEBRUARY 5
8 – 9:30 pm | public:
lecture/conversation by Ana Teixeira Pinto:
The Anthropological Machine and the Political Animal
FRIDAY, FEBRUARY 6
8 – 9:30 pm | public:
lecture by Doreen Mende:
Of Geopolitics in Exhibiting Processes