al­Sanhuri and the Subject of The Caliphate in Islam
-
Public talk with Ahmad Beydoun
past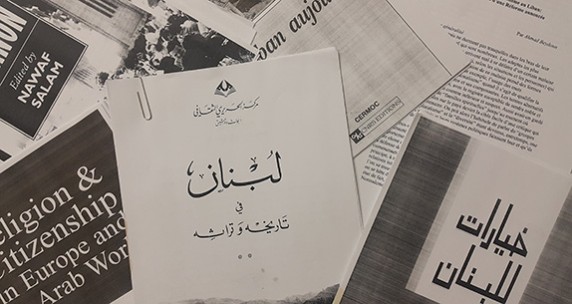 13 February 2016
Time:

8:00 pm - 9:30 pm
Event Type Talk
Location Ashkal Alwan CHECK THE MAP
Image Caption: courtesy of Moritz Fingerhut
MORE INFO
Perhaps the most significant remnant of the period following the abolition of the 'Caliphate' by Mustafa Kamal in 1924, were books. The Turkish abolition offered authors who were considered prominent and up­-and­-coming in Islamic governmental jurisprudence an opportunity to approach the issue of the Caliphate afresh, and to thoroughly investigate its prospects. Later, when the conditions that had dictated this had passed, these works became subject for debate, retaining a more generic significance with regards to statecraft in Islam. Throughout the long period since these works were published, this debate went almost uninterrupted, particularly because the works adopted opposing positions on the subject. This very debate is revived today with the rise of the 'Islamic State' in Iraq and Syria. With al­Baghdadi as its self­-declared Caliph, the subject of the Caliphate is re­emerging as a scholarly topic in the midst of an ongoing bloodbath. Selected here, as a window onto a fresh investigation of the subject, is one of the most significant of these works: the thesis of the Egyptian Abd al­Razzak al­Sanhuri.
السنهوري ومسألة الخلافة في الإسلام

لعّل أهّم ما بقي من المرحلة التي تلت إلغاء مصطفى كمال "الخلافة" في سنة 1924 ولم يلبث التجاذب السياسي الذي شهدته أن خمدت حركته كان الكتب. فقد وجد مؤلّفون كان بينهم َمن يعّد وجهًا بارزاً في فقه الحكم في الإسلام وكان بينهم من اكتسب هذه الصفة لاحقًا، مناسبًة في الإلغاء التركي للخلافة لطرح موضوع الخلافة برّمته من جديد وتقليبه على وجوهه كاّفة. وبعد انقضاء الظرف الذي أملى تأليفها لبثت هذه الكتب موضوع أخذ ورّد بما لها من دلالة عامة مّتصلة بنظرية الدولة في الإسلام. فكاد الجدال أّلا ينقطع في مندرجاتها في هذه المّدة الطويلة التي انقضت على صدروها، خصوصًا وأنها احتلّت مواقع متقابلة من المسألة فأقبل بعضها على مساجلة بعض. وها هو الجدال نفسه ينتعش في هذه الأّيام، مع ظهور "الدولة الإسلامية" في العراق والشام وإعلان أميرها البغدادي نفسه خليفة، وقد عاد بذلك موضوع الخلافة إلى بساط البحث مع ظهوره في ميدان المذبحة الجارية.
من بين هذه الكتب نختار واحداً من أهّمها وهو أطروحة العلاّمة المصري عبد الرزاق السنهوري لنّتخذه نافذًة إلى فحص جديد للموضوع.
The public talk is part of the seminar with Ahmad Beydoun for
HWP 2015-16: From The Miraculous to the Mundane
.
GETTING THERE
Ashkal Alwan | Home Workspace
Jisr el Wati, Street 90, Building 110, 1st Floor
Directions: Near Souk Al Ahad, next to Beirut Art Center, pink building facing IMPEX Garage
Phone: +961 1 423 879
www.ashkalalwan.org