An Additional Continent
-
Presentation by Joana Hadjithomas & Khalil Joreige
past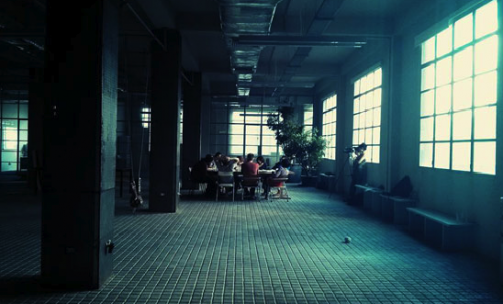 14 July 2014
Time:

4:00 pm - 6:00 pm
17 July 2014
Time:

8:00 pm
Event Type Presentation, Workshop
MORE INFO
This event is part of the fifth and final chapter of Home Workspace Program 2013-14, led by resident professors Jalal Toufic and Anton Vidokle.
For more information on Chapter 5 and the year's schedule and curriculum, please see
HWP 2013-14
.
MONDAY, JULY 14
by registration 4-6pm: workshop with Joana Hadjithomas and Khalil Joreige
THURSDAY, JULY 17
public
8pm: presentation by Joana Hadjithomas and Khalil Joreige
"An Additional Continent"
Joana Hadjithomas and Khalil Joreige explore their research focusing on artistic and cinematographic narration, the writing of history, the construction of imaginaries, as well as the notions of territory, cosmopolitanism and contemporaneity.
Joana Hadjithomas and Khalil Joreige
are Lebanese filmmakers and artists that regularly collaborate. Together, they have directed documentaries such as
Khiam 2000-2007
and
El Film el Mafkoud
(The Lost Film, 2003), and feature films such as
Al Bayt el Zaher
(Around the Pink House) in 1999 and
A Perfect Day
in 2005. Their feature film
Je veux voir
(I Want to See) premiered in the official selection of Cannes Film Festival in 2008 and was awarded Best Singular Film by the French Critics Syndicate. Together, they have created numerous photographic installations such as the
Circle of Confusion, the Wonder Beirut project, Latent Images, Lasting Images
, and
Faces
, among others. They have presented their work in museums, biennials and galleries around the world, most recently at the 10th Sharjah Biennial, the 11th Lyon Biennial, the 12th Istanbul Biennial, La Triennale (Paris), the Gwangju Biennial, Festival d'Avignon, Museé d'Art Moderne (Paris), Centre de la Photographie (Geneva), Ellen Bina Gallery (Montréal), Beirut Exhibition Center, Guggenheim Museum (New York), and Victoria and Albert Museum (London). Their last body of work is a feature documentary and an art project on the Lebanese space program, titled
The Lebanese Rocket Society: The Strange Tale of the Lebanese Space Race
.
Hadjithomas and Joreige are film and art professors in Lebanon and in France. Together with Georges Schoucair, they are co-founders of Abbout Productions, and are members of the Metropolis Art Cinema committee (Beirut).
GETTING THERE
Ashkal Alwan | Home Workspace
Jisr el Wati, Street 90, Building 110, 1st Floor
Near Souk Al Ahad, facing IMPEX Garage, Pink Building next to Beirut Art Center
Phone: +961 1 423 879
www.ashkalalwan.org