Anachronistic Utopias
-
Workshop with Katya Sander & Pelin Tan
past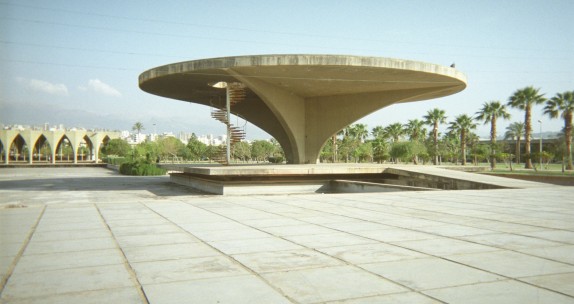 Event Type Workshop
Location Home Workspace CHECK THE MAP
MORE INFO
This event is part of the second chapter for Home Workspace Program 2013-14, led by resident professors Jalal Toufic and Anton Vidokle.
For more information on chapter 2 and the year's schedule and curriculum, please see
HWP 2013-14
.
FRIDAY, JANUARY 10, 2014
Anachronistic Utopias
| Workshop with Katya Sander and Pelin Tan
5pm: by registration
The workshop will be about the "incomplete" representation of early modernist forms (architecture/art) and its fictional narrative which fails to correspond to the spatial experience the "recent". The workshop will draw examples from Turkey to Germany and other cities in the context of nation building and local modernities.
Katya Sander
questions in her work issues of space, narration, desire and structures of power through video, film, photography, text and architectural constructions and interventions. She often works site-specifically, using and/or reflecting on a given context in light of the interests and analysis she brings in, frequently placing her work and its ways of functioning outside of identifiable art-contexts, while using these very sites as starting points for her investigations. Katya is a professor at the Visual Arts – Danish Royal Art Academy, Copanhagen.
Pelin Tan
trained in sociology, art history and urbanism. She is involved in research-based artistic and architectural projects that focus on urban conflict&territorial politics, gift economy, the condition of labor and mixed methods in research. She is asst.professor at the Architecture Faculty of Artuklu Univ. Mardin.
GETTING THERE
Ashkal Alwan | Home Workspace
Jisr el Wati, Street 90, Building 110, 1st Floor
Near Souk Al Ahad, facing IMPEX Garage, Pink Building next to Beirut Art Center
Phone: +961 1 423 879
www.ashkalalwan.org