Animals and Revolution
-
Lecture by Oxana Timofeeva
past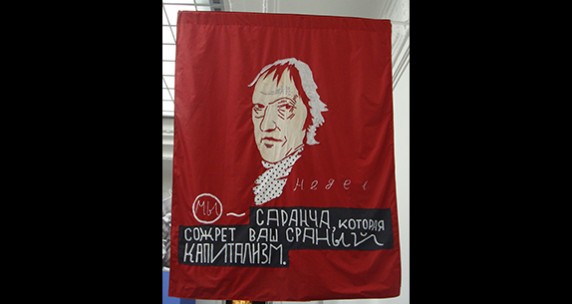 19 March 2014
Time:

4:00 pm - 6:00 pm
20 March 2014
Time:

8:00 pm
Event Type Lectures, Workshop
MORE INFO
This event is part of the third chapter of Home Workspace Program 2013-14, led by resident professors Jalal Toufic and Anton Vidokle.
For more information on the third chapter and the year's schedule and curriculum, please see
HWP 2013-14
.
WEDNESDAY, MARCH 19, 2014
4-6pm | by registration
Workshop with Oxana Timofeeva
THURSDAY, MARCH 20, 2014
8pm | Public
Animals and Revolution
A lecture by Oxana Timofeeva
What is a revolutionary project, from animals' perspective? The lecture addresses this question, analyzing problems of unconscious subjectivity, and collective desire with its persistent negativity, referring to different authors such as Hegel or Andrey Platonov, in order to expose both a utopian horizon of animality, and a bestial horizon of utopia — and at the same time, an urgency of a certain politics of the unconscious.
Oxana Timofeeva
is a Senior Research Fellow at the Institute of Philosophy of Russian Academy of Sciences (Moscow), a Humboldt Fellow at Humboldt University (Berlin), a visiting Research Fellow at the Slovene Academy of Sciences and Arts (Ljubljana), and a member of an artistic collective "Chto Delat?" ("What Is To Be Done?"). She is the author of books "History of Animals: An Essay on Negativity, Immanence, and Freedom" (Maastricht, 2012), and "Introduction to the Erotic Philosophy of Georges Bataille" (Moscow, 2009).
GETTING THERE
Ashkal Alwan | Home Workspace
Jisr el Wati, Street 90, Building 110, 1st Floor
Near Souk Al Ahad, facing IMPEX Garage, Pink Building next to Beirut Art Center
Phone: +961 1 423 879
www.ashkalalwan.org