Arabic Science Fiction – A Frontier of (Im)Possibilities
-
Arabic Science Fiction - A Frontier of (Im)Possibilities
past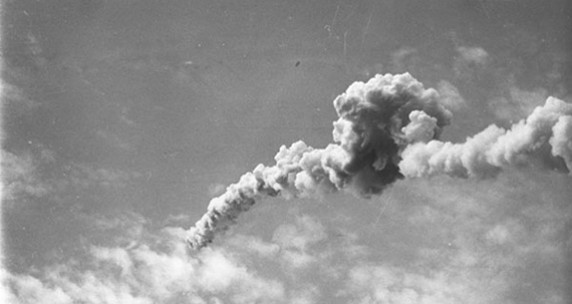 8 May 2015
Time:

8:00 pm - 10:00 pm
Event Type Exhibition
Location Ashkal Alwan Library CHECK THE MAP
A conversation between Darine Hotait, Yazan al-Saadi & Fdz Bx


Image Caption: Assad Jradi, Launch of the fourth Lebanese rocket, Dbayeh, Lebanon, November 21, 1963, Collection AIF/Assad Jradi, Courtesy of the Arab Image Foundation
MORE INFO
Arabic Science Fiction – A Frontier of (Im)Possibilities
Friday 8th May, 8pm, Ashkal Alwan Library
A conversation between
Darine Hotait
Yazan al-Saadi
Fdz Bx
As part of apexart's
Space Between Our Fingers
, an exhibition across Beirut curated by Rachel Dedman, you are invited to an evening of conversation about science-fiction in art and literature from across the region.
Darine Hotait is a Lebanese writer and film-maker based in New York, who is passionate about rapid scientific evolution, robotics, AI and science fiction in Arab cinema. A trailer and funding video for her film ORB is available
here
.
Yazan al-Saadi is a writer and researcher with interests from pop culture to politics, sociology and economics. His piece on legacies and precedents for Arab science-fiction in al-Akhbar is essential reading:
http://english.al-akhbar.com/node/7995
Fadi Baqi, or Fdz Bx, is a founding member of the Samandal comic collective, and a graphic designer, illustrator, editor and film-maker raised on Grendizer. He is currently working on a sci-fi film project.
Moderated by exhibition curator Rachel Dedman, the discussion will go beyond fundamental questions such as does science fiction exist in the Arab world? and attempt to consider issues surrounding sci-fi's critical potential, its use of Arabic as language, and the power its marginal status, within a regional context.
The Exhibition
Space Between Our Fingers
is on view from May 3 – 30. Click
here
for more info.
GETTING THERE
Ashkal Alwan | Home Workspace
Jisr el Wati, Street 90, Building 110, 1st Floor
Near Souk Al Ahad, facing IMPEX Garage, Pink Building next to Beirut Art Center
Phone: +961 1 423 879
www.ashkalalwan.org