Becoming Power
-
led by Resident Professor Minerva Cuevas
past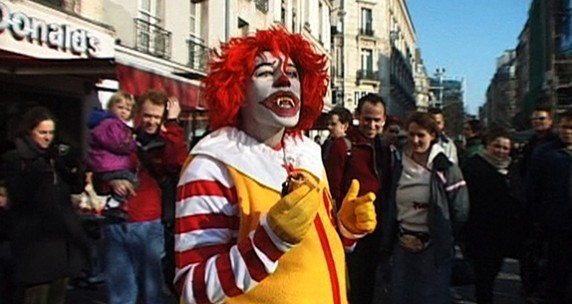 25 April - 20 May 2016
Event Type Workshop
Location Ashkal Alwan CHECK THE MAP


Image Caption: Minerva Cuevas, Donald McRonald, Action/Video Still, Paris 2003
MORE INFO
In this series of workshops and lectures we will discuss the role of power structures as part of daily life and their links with geopolitics, zooming out of our local urban experiences. We will explore the relationship between artistic practice and political action through public art, sabotage, hacking and shamanism.
During the sessions we will focus on questioning the concepts of: Community, development, progress, society, individual, corporation, social body, camouflage, death, phenomena, ritual, music, mask, autonomy, invisibility.
Examples of social movements and interdisciplinary projects will be used to question the tools and strategies that, in turn, are used to question the disparities that rule the world's resources and knowledge distribution in capitalist society.
With guest speakers Heath Bunting and Francis McKee.
Becoming Power
is Workshop III of
HWP 2015-16
.
PROGRAM

TUESDAY, MAY 3

8 – 10pm | public

The phantom return path – camouflage workshop
– talk with Heath Bunting
Talk and workshop on reverse logic and how circularity can be used as a form of camouflage and masking actions and ideas. The workshop would deal with circular movements across landscape, social systems and narratives that appear to become by chance disrupted, but were always destined to be shorter than expected, an example, you tell your partner you are just going to the local shop – they expect you to come back, but you never return, you never lied, you made half the effort and you got what you wanted – you escaped mysteriously. Another example, USA invades a country to liberate it from an oppressor with the expectation that they will leave afterwards, but they never do – it was an invasion after-all – what a surprise!
WEDNESDAY, MAY 4

2 – 6pm | closed

The phantom return path – camouflage workshop
– workshop with Heath Bunting
TUESDAY, MAY 10

5 – 7pm | closed:
If God gives you tear gas make lemonade
– workshop with Francis McKee
WEDNESDAY, MAY 11

8 – 10pm | public:
The Great Liberation by Hearing in the Intermediate States – lecture with Francis McKee
Brian Keenan – taken hostage in Beirut and held for four and half years in the southern suburbs, begins to talk to an 'invisible friend' to pass the time, the friend is Turlough O'Carolan, the legendary 18th century Irish harper. Keenan's choice of virtual companion is very interesting. Keenan, a northern irish protestant, had little contact with irish catholic culture or traditional irish culture. Speaking and writing in gaelic rather than English, O'Carolan was one of the last great figures in a vanishing civilization.
Keenan, as a northern protestant represented the settler tradition that was part of the British strategy to suppress and vanquish native irish culture. After his release Keenan wrote about his experience as a hostage but still did not think of writing about O'Carolan until he was approached by an Inuit woman who convinced him that O'Carolan was a dreamwalker. After writing a book on O'Carolan, Keenan went on to write about Shamanism in Alaska and Inuit territories.