Open Call for Participants
past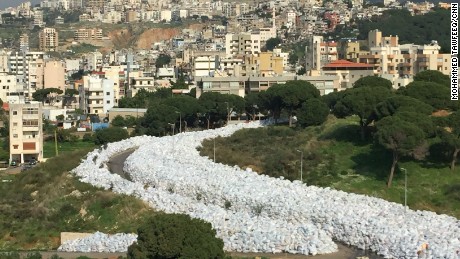 10 - 16 October 2017
Event Type Open Call, Workshop
Call for participants | "A Tale of Trash Mountains, Garbage Rivers, and Migratory Birds"
A three-day workshop on waste management & the waste economy in the context of a dinner performance
Dates
:
Tuesday, 10 October 2017
, 6-9 pm (Ashkal Alwan)
Wednesday, 11 October 2017
, flexible (independent site visit)
Thursday, 12 October 2017
, 6-9 pm (Ashkal Alwan)
Monday, 16 October 2017
, 6-8 pm (location tbd)
Language
: English (an Arabic-English translator will be present)
Number of participants
: 10-15 The workshop is free of charge In the framework of the ongoing garbage crisis in Lebanon, a crisis that can be read as a potent symbol of the country's often dysfunctional infrastructure and sectarian politics, Franziska Pierwoss and Sandra Teitge organize a dinner performance that addresses the multiple layers of this situation. Assuming that politics do not only happen around the table in the private realm but also on an international level, Pierwoss and Teitge aim to renegotiate the nature of specific events and to debate food as a tool of power. During this culinary and discursive evening, questions of private and public responsibility, informal and formal economies, as well as associated phenomena such as international waste trade regulations along with affiliated violations will be raised and explored. Call for participants: We invite students, professionals and everyone interested in the above-mentioned topics from the field of political science, urban planning, biotechnology, economics, architecture and art. When registering please provide a two-line info on your background and your interest in the topic. Please register here: nourosseiran@gmail.com
About the Dinner Performance and the Artists
Franziska Pierwoss & Sandra Teitge have been staging performances related to historical meals since 2014, which involve artists, amateur chefs, writers, and researchers who investigate historical menus and their context, affirming the political dimension of the culinary. Franziska Pierwoss (*1981 in Tübingen/Germany) is a Berlin-based performance and installation artist, who also works as an organizer and initiator of various cultural projects. With a strong focus on durational performance and collaborative practices, she develops site-specific installations. Her works create situations of engagement, in which personal and political boundaries are called into question. Sandra Teitge (*1982 in East Berlin/Germany) is a Berlin-based curator/programmer, writer, and researcher. She organizes discursive context-specific events and exhibitions in the realm of contemporary art, performance, and architecture.