Encountering the Counterinstitution
-
Led by Resident Professor Gregory Sholette, With Josh MacPhee and Rick Lowe
past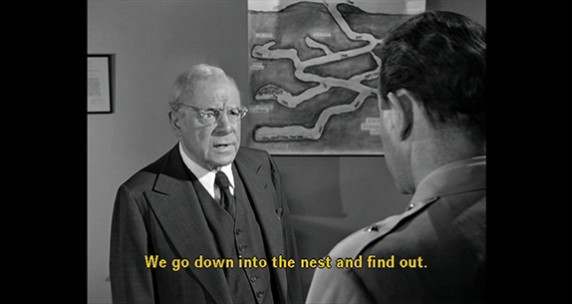 13 - 24 April 2015
Event Type Lecture, Workshop
Location Ashkal Alwan CHECK THE MAP
Image Caption: Still from Them!, directed by Gordon Douglas, 1954
MORE INFO
In the aftermath of recent and ongoing mass occupations of public space around the globe the question of collective practice and institutional formation has become paramount for artistic work. This learning unit will systematically investigate new, as well as older, overlooked ways of organizing cooperatives, cultural spaces, inter-active and public-art projects, and other DIY institutions. Over the course of two weeks a series of lectures, workshops, and assignments will draw on the history of tactical media, community organizing, Occupy, counter-globalization, as well as other related examples. Throughout this the aim for Sholette and participants will be to address a contrasting set of challenges – both critical and constructive – involving the re-thinking of institutions today by taking their cue from Slavoj Žižek as they aim to develop their own "pervert's guide" to 21st Century cultural institutions.
Encountering the Counterinstitution
is Workshop V of
HWP 2014-15: Setups / Situations / Institutions
.
Lectures are open to the public.
Workshops have limited capacity and require registration.
Please register separately for each workshop by sending an email to
hwp@ashkalalwan.org
.
PROGRAM
TUESDAY, APRIL 14
7 – 9 pm | public:
lecture with Josh MacPhee
Building Institutions Through Solidarity and Surplus
Josh MacPhee will speak on his work helping to build large-scale and long-lasting groups and projects which are founded outside the purvey of mainstream institutions, and to provide a location to explore relationships that run counter to the logics of capitalism and statecraft. He will introduce the
Justseeds Artists Cooperative
and
Interference Archive
as examples of two very different counter-institutions which attempt to foster group solidarity, organizational experimentation, and alternative ways of sharing history, culture, and ideas. 
WEDNESDAY, APRIL 15
3 – 6 pm | by registration:
workshop with Josh MacPhee
THURSDAY, APRIL 16
7 – 9 pm | public:
lecture with Rick Lowe
Social Sculpture as a Means of Community Empowerment
Lowe sees his work as a tool of empowerment and will speak of ways his work seeks to empower the communities he works with. Deeply embodied in the empowerment of his work is the symbolic framework he provides for community engagement and aspirations. He will present examples of both long and short term projects that range from a community scale to the scale of the individual.
FRIDAY, APRIL 17
3 – 6 pm | by registration:
workshop with Rick Lowe