Everything Else is Ordinary: On the Mimetic and Discordant Relations Between the Miraculous and the Mundane
-
led by Raqs Media Collective
past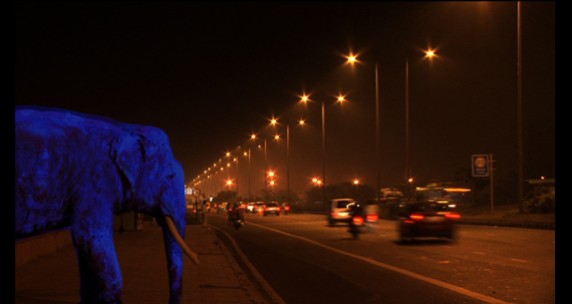 6 - 30 June 2016
Event Type Workshop
Location Ashkal Alwan CHECK THE MAP


Image Caption: Raqs Media Collective, Still from Strikes at Time, 2011
MORE INFO
"Everything Else is Ordinary" is a line that caps almost every entry in a found diary kept by an industrial worker in Delhi. Raqs Media Collective weave this thought into Strikes at Time, their video exegesis on the reclaiming of lost time from the working day. In their workshop, Raqs will coax the 'ordinary' and the 'extraordinary' to play with each other by mobilizing readings of art works, film, literary texts, philosophical and scientific works, diverse cultural materials and investigative procedures in order to unravel how the mundane and the miraculous differ from, shadow and mimic each other. In doing this, they hope to offer new and exciting ways of relating art practices, thought, emotion, life and curiosity.
With guest speakers Mania Akbari, Salima Hashmi, Yasmina Jraissati, Sami Khatib, and Cuauhtémoc Medina.
Everything Else is Ordinary: On the Mimetic and Discordant Relations Between the Miraculous and the Mundane
is Workshop IV of
HWP 2015-16
.
PROGRAM

THURSDAY, JUNE 9

2 – 5pm | closed

The poet on the balcony – Faiz Ahmed Faiz in Beirut
– Seminar with Salima Hashmi (via skype)
The talk looks at the years 1978-1981 when Beirut was the refuge for writers, poets, artists and intellectuals in exile, from all kinds of countries for all kinds of reasons. The speaker came to Beirut with her two children to visit her father, a celebrated urdu poet who was editing Lotus, a journal of Afro Asian writings, from a small office in Raouche. This is a personal account of encounters with Moeen Besisu, Adonis, and others amidst travels to camps and forgotten archeological sites.
MONDAY, JUNE 13

8 – 10pm | public

Why is blue "blue"? – Language and perception in color categorization
– Public lecture with Yasmina Jraissati
As agents who act upon and interact with our environments, we are equipped with sensory apparatuses that gather information. These sensory apparatuses transform energy into sensations. Having limited cognitive capacities, in order to make sense of these experiences, and verbally communicate about them, we need to group them together. It is said that "cognizing is categorizing", and that sensory categories are building blocks of cognition. Yet, how categorization takes place remains a mystery. Why do we draw the boundary between red and orange, green and blue where we do? Is that due to the structure of our perceptual apparatus, or to language and culture? In this talk, I will present this over century long hotly debated topic. I will argue that the answer to the question of how we categorize most probably rests on the interaction between hard-wired mechanisms and cultural factors. The challenge is to offer a convincing account of such interactions, and ideally, one that takes into account different sensory domains, beyond the most studied case of color.
Essential Reading
Language and thought: Which side are you on, anyway
by Regier, T., Kay, P., Gilbert, A. L., & Ivry, R. B. (2010). In Malt, B., and Wolff, P. (Eds.)
Words and the mind: How words capture human experience.
Oxford, Oxford University Press, 165-182.
Recommended Reading
On Color Categorization: Why Do We Name Seven Colors in the Rainbow?
by Jraissati, Y. (2014), Philosophy Compass, 9(6), 382-391.
WEDNESDAY, JUNE 15

2 – 5pm | closed

How Can the Modern Tell Stories? Notes on Benjamin's Anthropological-Materialist Theory of Experience
– Seminar with Sami Khatib
In his short essay
Experience and Poverty
(1933), Benjamin contends that with the "tremendous development of technology, a completely new poverty has descended on mankind." This poverty "is not merely poverty on the personal level, but poverty of human experience in general." Human experiences "in general" are not measured individually and quantitatively but collectively and qualitatively. They are communicable experiences that can be told – shared in storytelling. In his essay on
The Storyteller
(1936), Benjamin follows his earlier argument on the modern decline of the ability to exchange experiences orally. Against cultural conservatism he posits his anthropological-materialist question: Can we think of a new technological medium, a coming posthumanist tradition in which we can embed individual experiences and share them collectively with a linguistic community beyond functional socialisation? If tradition is the ability to transmit and pass on collective experiences in a meaningful way, modernity is not simply without tradition. However, the mode of the production of meaning has changed in modernity. If in capitalist modernity "all that is solid melts into air, all that is holy is profaned," as Marx and Engels famously claimed, the modern experience is also a liquid one. And hence, historiography – the integral unity of all storytelling – cannot rely anymore humanist teleologies. But what sort of stories, histories and historiographies can be imparted in the posthumanist medium of new technologies and liquid experience? Who or what is the storyteller of a present yet to come? Discussing these questions, the seminar will engage in a series of close-readings of selected passages of the mentioned essays. Participants are asked to have read the essays before the seminar begins.
TUESDAY, JUNE 21

2 – 5pm | closed

Poeticising the everyday
– Seminar with Mania Akbari
'The real voyage of discovery consists not in seeking new landscapes, but in having new eyes' – Marcel Proust
This seminar will look at how artists and filmmakers elicit poetic meaning from everyday experience.
As fiction leans on narrative and documentary pursues the unusual, we will ask how artists go beyond these to deliver visions of everyday life that pulse with a new energy. Taking as a starting point Virginia Woolf's 'incessant shower of innumerable atoms' that occur in any ordinary mind at any ordinary time, the seminar will look at various strategies employed by artists, writers and filmmakers to poeticise or monumentalise the everyday.
From Shahid-Saless' stillness of vision in "Still Life", through Forough Farrokhzad's uncompromising gaze, to the hallucinatory eye of Pedro Costa, the seminar will consider artistic strategies which seek enchantment in everyday environments, and bid the viewer to do the same.
THURSDAY, JUNE 23

8 – 10pm | public

A Body's Memory
– Public lecture with Mania Akbari
Memory is not the preserve of words and images. There is a physicality to memory. We feel it in objects and it is written into our bodies. This is too easily seen as damage, when it is in fact the telling of a story.
For the last two years I have been looking at the triangular relationship between body, object and memory- the secrets that each may hold about the other, and how these might be unlocked. How might a landscape of memory suddenly appear, uninvited, in an object? And how might the object transformed tell the story of a body?
These are the questions I have been asking through my collaborative project with British sculptor Douglas White "A Moon For My Father'. The project weaves a deeply personal fabric of object, nation and body- looking at the things we create and the the things that create us.
FRIDAY, JUNE 24

2 – 5pm | closed

Traps, Spells and Mirrors: Mimesis and Critical Theory
– Seminar with Cuauhtémoc Medina
This short seminar examines the way modern aesthetic theory and anthropology have explored the question of mimesis and its relationship with advanced thought. In that we will explore both the way critical anthropology has rethought the question of sympathetic magic, and the way the concept of mimesis and mimicry defined a number of aeshtetic concerns of the avant-garde. This will be a chance to explore the complex relationship between artists such as Theodor Adorno, Roger Caillois, Michael Taussig and Alfred Gell, and the ample legacy of James Frazer's concept of "Sympathetic magic" in modern western thought.
MONDAY, JUNE 27

8 – 10pm | public

To Die of Success. Curating Contemporary Art in Mexico today
– Public lecture with Cuauhtémoc Medina
A lecture about the challenges of curating in the light of the contradictory demands that frame the political sphere of a troubled country like Mexico. Among other things, Cuauhtémoc Medina will refer to his experience as Chief Curator at the University Contemporary Art Museum (MUAC) in Mexico city, since 2013.