Fugacious Presence
-
A Collective Performance
past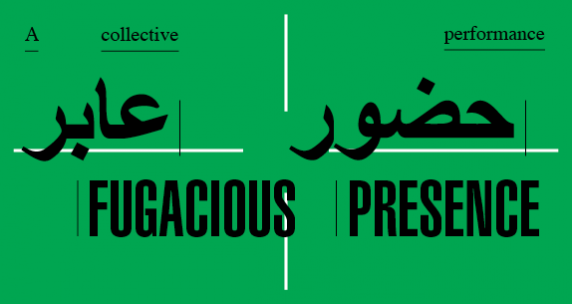 27 May 2016
Time:

7:00 pm - 9:00 pm
Event Type Performance
Location Ashkal Alwan CHECK THE MAP
المزيد من المعلومات MORE INFO
حضور عابر | فكرة إلسه فريخ

عرض أداء جماعيّ

تستقرئ إلسه فريخ راهناً ثيمة الحرب والذاكرة، فيما يتعلّق بتاريخ لبنان ومن تعرّضوا لصدمته النفسية، وهي التي تجسّدت مادياً في مدينة تشغل حيّزاً مشهدياً وفي الجسد الإنساني بحد ذاته. «حضور عابر» قصيدة حيّة تتّخذ لها شكل توليف سمعي بصري، تُكتَب أبياتها لحظياً. تغدو المجموعة المؤديّة جسداً جمعيّاً يتحرّك في تتابع إيقاعي للصور والكلمات والصوت، يتّحد أحياناً ويتعارض في أحيان أخرى. تتشكّل صورة مفعمة بالحيوية، تمثّل الذاكرة في تحوّلها، تنتظر أن تقبض على صوت أو جسد في انتظار الإعراب عن ذاته في الحاضر. إن الذاكرة توليف سينمائي، تماماً شأن كون المصادفة قصيدة لا تنقطع، تُعبِّر عن صعود حضور مُتخيَّل ومستقبل مُمكِن واصطدامهما.


Fugacious Presence | Concept by Ilse Frech

A Collective Performance

"Many are the terrible wonders [deina], but none rises up [pelei] more terrible than man."

Ilse Frech is presently exploring the theme of war and memory related to Lebanon's history and the carriers of its trauma – embodied by objects, the city as part of the landscape, and the human body as such. Fugacious Presence is a live-poem in the form an audiovisual composition being written at the very moment. The performing group acts as a collective body in a rhythmic concatenation of images, words, and sound, in joint alliance or opposition to one another. A vivid image of memory in transition emerges, yet awaiting to capture and grasp a voice or a body to be expressed in the present. Memory is as much a filmic montage as chance is a perpetual poem of the rise and collision of a projected presence and a possible future.


المؤدّون:دانيال بلابان وميرنا بويادجيان وطوني علّيه وسارة أثينا نحاسوهاني السواح وداليا ياسين إليزابيث سرور رواد كنج


مساعدة: إميلي موردوك
أزياء: ريا قزعون

شكر خاص لكل من: نديم دعيبس وسارة صحناوي ويوري فيرمان ومارك قدسي وسلام شكر ويارا بستاني ورودي ناكوزي وعلي يونس.


Performers: Daniel Balabane, Mirna Boyadjian, Tony Elieh, Rawad Kanj, Sarah Athina Nahas, Elizabeth Srour-Kanj

Movement Coach: Amelie Murdock
Wardrobe: Raya Kazoun

Special thanks to: Nadim Deaibes, Rayan Al Nihawi, Sara Sehnaoui, Yuri Veerman, Marc Codsi, Salam Shokor, Jad Shokor, Ali Younes, Yara Boustany, Rudy Nacouzi


About Ilse Frech
إلسه فريخ
(١٩٧٢، أمستردام) فنانة بصريّة ومصوّرة وثائقية وصانعة أفلام. درست التصوير الفوتوغرافي في الفترة من ١٩٩٠-١٩٩٤ في الأكاديمية الملكيّة للفنون الجميلة والعمارة والموسيقى في لاهاي. حازت في العام ٢٠١٣ شهادة الماجستير من جامعة الفنون والتصميم في جنيف (سويسرا)، في ممارسات الفنون الجميلة والمعاصرة. أعمالها منذ العام ١٩٩٩ معنيّة بقضايا الهويّة والإرث السياسي والأسطورة والذاكرة والصدمة النفسية. إقامتها الفنيّة في أشكال ألوان بدعم من مؤسسة موندريان، هولندا.
Ilse Frech
(1972, Amsterdam) is a visual artist, documentary photographer and filmmaker. She studied Photography from 1990-94 at the Royal Academy for Fine Arts, Architecture and Music in The Hague (KABK). In 2013 she earned a Master's degree from the University of Art and Design, HEAD-Geneva (Switzerland) in Fine Arts and Contemporary Artistic Practices, major Visual Arts – program Work.Master (2011-13). Identity related to political heritage, myth, memory and trauma embody her practice since 1999. Her residency at Ashkal Alwan is in affiliation with and supported by the Mondriaan Foundation, the Netherlands.
GETTING THERE
Ashkal Alwan
Jisr el Wati, Street 90, Building 110, 1st Floor
Directions: Near Souk Al Ahad, next to Beirut Art Center, pink building facing IMPEX Garage
Phone: +961 1 423 879
www.ashkalalwan.org