Inquiries on a Common World
-
led by Resident Professors Joana Hadjithomas & Khalil Joreige, with Valérie Pihet, Bruno Latour, Waddah Charara, Sandra Terdjman & Tarek Atoui
past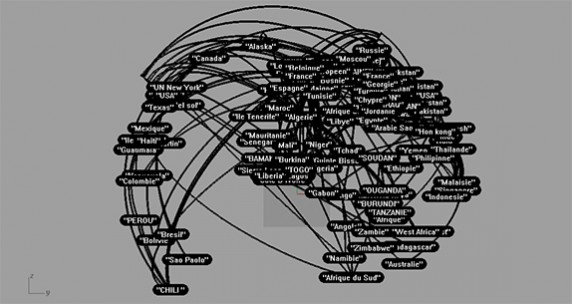 16 - 27 February 2015
Event Type Workshop
Location Ashkal Alwan CHECK THE MAP
MORE INFO
Facing certain situations, to what modes of inquiry, practices of art, but also tools and methods of sciences can we refer today? Considering their research on the construction of imaginaries and the writing of history, Joreige and Hadjithomas will work jointly with Bruno Latour and his methodologies, with members or former participants of SPEAP (the Masters program of Experimentation in Art and Politics, Sciences Po, Paris) Valérie Pihet and Sandra Terdjman, with actors in the Lebanese scene Waddah Charara and Tarek Atoui, and with participants. Presentations and workshops shall focus on the shareable public space, on the common, and on the invention of new forms of political, scientific and artistic representations.
Inquiries on a Common World
is Workshop IV of
HWP 2014-15: Setups / Situations / Institutions
.
Lectures are open to the public.
Workshops have limited capacity and require registration.
Please register separately for each workshop by sending an email to
hwp@ashkalalwan.org
.
PROGRAM
TUESDAY, FEBRUARY 17
3 – 6 pm | by registration:
workshop with Valérie Pihet
WEDNESDAY, FEBRUARY 18
2:30 – 5:30 pm | closed:
workshop with Bruno Latour
8 – 9:30 pm | public:
lecture with Bruno Latour
Composing the Common World
It has become clear that we no longer live in a shared world. The common world remains an horizon but it has to be composed out of vastly disjointed experiences and values. The lecture will review some experiment in composing the common world coming from several fields of science, art and education.
THURSDAY, FEBRUARY 19
3 – 6 pm | by registration:
workshop with Sandra Terdjman
8 – 9:30 pm | public:
lecture with Waddah Charara
The people(s) of the balcony
This lecture and conversation is a descriptive study of Beirut's Manara corniche or seafront promenade, as a society consisting of overlapping and adjacent groups, and a stage on which these groups exhibit their 'manners,' form their relations, and inhabit their domains.
Through the description, the lecture aims to deduce a general or common trait that can help define the implicit contract on the basis of which these groups and individuals have convened.
*In Arabic with simultaneous interpretation into English.
FRIDAY, FEBRUARY 20
3 – 6 pm | by registration:
workshop with Waddah Charara
*In Arabic with simultaneous interpretation into English.
TUESDAY, FEBRUARY 24
8 – 9:30 pm | public:
presentation by Sandra Terdjman and Tarek Atoui
The Cochlear Vertigo
The composition WITHIN and the inquiry TACET are two intertwined projects initiated in 2013 in the context of the Sharjah Biennial 11. They started as a dialogue between Tarek Atoui, Council (curators Sandra Terdjman and Gregory Castera) and the teachers and students of Al Amal School for the Deaf in Sharjah.
These discussions took place with students of different degrees of deafness, and led to an exploration of a diversity of listening modes and abilities (anticipation, tactile sound, visual noise). During the biennial, this informed the structure of Tarek Atoui's composition,  as well as a number of workshops with Al Amal students and a think tank curated by Council with a collective of researchers.
Since 2013, they also inspired new productions and an online publication.
Through WITHIN and TACET, different modes of inquiries were experimented. This talk will look back at the different methodologies used and their consequences.
With the support of the Institut Français, Beirut.