Listening, seeing, writing, moving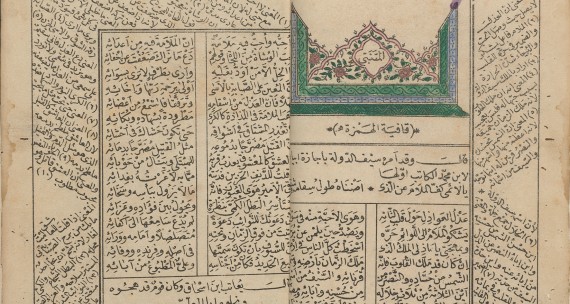 Listening, seeing, writing, moving is Course Module I of HWP 2016-17: Head Above Water. Some seminars are open to the public with limited capacity and require registration. Register by sending an email to hwp@ashkalalwan.org Image: Diwan al-Mutanabbi, Lithograph print with hand coloring, Calcutta (?), 19th century, Courtesy of the Widener Library, Harvard University.
Closed seminar | Media, Modernity, and the Public Sphere: Fin de Siècle Print Culture and Reading Practices in the Middle East with Hala Auji

This seminar examines the varied roles, uses, and forms of print media in the Arab world during the late 19th and early 20th centuries. These publications were central to contemporaneous discourses on modernity—understood as the concepts of civilization and progress—which were being debated in the public realm in regional cities like Beirut, Cairo and Alexandria. Discussing conventional and contemporary theories on print commerce, reading practices, and the formation of public spheres, seminar participants will consider how these concepts (many of which stem from the work of Jürgen Habermas and Benedict Anderson, and pertain to European contexts) have been reframed and debated by scholars of the modern Middle East. In particular, this session will explore the varied approaches to "reading" during this period, including questions of orality and visual literacy, and the forms, media, and spaces in which these practices took place.



Seminar | Systemic vs Discrete Practices with Diann Bauer
Open to registration

Wednesday, November 9 | 2-6PM

This seminar will look at the ways artists can use their field's purported intellectual promiscuity to leverage what art can be and do. Could it function otherwise and for what ends? Bauer will lead a discussion asking how a practice can use visual language as a means to develop thought, as well as use collaborative and systemic practices to shift the parameters of how and where art functions. Can we as artists use our skills of speculation and the anti-dogmatic claims of our field, to leverage knowledge produced by other fields, as a means to understand better what art now ought to be?

The structure of the workshop will be divided into two parts. In the first part, Bauer will briefly speak about her own practice and how it functions both visually and discursively. She will focus on recent collaborative work done through Xenofeminism, as well as work done as part of a Miami-based collaborative project called AST (Alliance of the Southern Triangle) that develops interdisciplinary projects to address global climate change, cities, real-estate development, taxation, insurance schemes, terraforming, statecraft and art.

In the second half of the workshop, she will look at an excerpt from Benjamin Bratton's book The Stack, and think through how his proposals might be useful for art practitioners. What can art do when its main referent is a systemic condition rather than the individual subject?


Public Talk | Xenofeminsim in Alien Time

Thursday, November 10 | 7:30PM

In this paper, Bauer will speak about Xenofeminism (XF): A Politics for Alienation, a text collaboratively written by Laboria Cuboniks in 2015. Bauer will highlight XF's endorsement of alienation, and how it can be helpful in thinking about what time is.

Bauer will introduce the idea of Xenotemporality (XT), which proposes that the human experience of time is not sufficient for how we organize, inflect and orient the systems on which we now depend. Realities of how time functions beyond human experience have a direct impact on us and our daily lives via our technology (GPS satellites, for example). The development of XT and a commitment to thinking 'time' outside of our experience (a further decentering of the human), will help frame how we are to think about what the human is and how best to orient our expedited evolution.




Seminar | What Can A Sonic Assemblage Do? The Biopsychosocial Condition of Listening and Sounding with Seth Ayyaz Bhunnoo
Open to registration

Wednesday, November 16 and Thursday, November 17 | 1-5PM

Over the course of two seminars, I want to think sound and to sound thinking. These two terms sit in uneasy relation, each complicating the other. For that reason, the two seminars will operate at variance with one another, the first positing a critical inversion of theory, the second preceding from sound into thought.

The first trajectory is to approach listening independently of any subject–relative givenness, chiefly by harnessing materialist insights into the conditions of listening through the cognitive sciences. This offers a pragmatic remodelling of the listening mind as practical, rather than ideal object. It becomes one of many cognitive nodes/objects; a fractionable mind-brain embedded in and emergent from the material conditions of biological, psychological and social systems.

The second seminar outlines a second escape route through unshackled sound, advocating an exploration of the world through electroacoustic means, jettisoning notions of 'authentic', 'musical' perception. Composed sound need not conform to aesthetic illusions, but can be unchained, anomalous and scope beyond the limits of perceptibility.


Closed seminar |The Auto-Mobility of the Inanimate in Dance with Jalal Toufic

Dance, which, in the realm of altered body, silence, and movement into which it projects a subtle version of the dancer, makes possible immobilization, the genetic element of motion, allows all sorts of extraordinary movements, including an auto-mobility of the inanimate. The first couple of times when its winding mechanism came to a stop, the doll became again motionless; the third time the winding mechanism came to a stop, its faint sound no longer audible, the doll continued to move, having acceded to the auto-mobility allowed by dance in the realm of altered body, silence, and movement in which it projects a subtle version of the dancer. When the mechanical doll attains the state of dance, a cessation of its movement would be due to its becoming frozen in dance's realm of altered body, movement, silence, and music. The notion of rewinding the doll's mechanism occurred to its erstwhile master, but, being himself a dancer, he dismissed it—he must have sensed that he would not be able to do so since the doll was then frozen still, thus withheld from time, with the consequence that the action of rewinding it, one that takes place in time or is a form of time, could not be effectuated until the doll was no longer frozen but subject to time again. The doll resumed its movement on its own once the silence-over had receded.




Closed seminar | "I will not say, my brothers, what listening is, before I know who the listener is": A collective listening session with Haytham el-Wardany

The title of this seminar is inspired by two verses from a poem by the Persian poet Saadi, where he links the act of listening to the (historical) subject who undertakes it. Listening for Saadi is thus not merely sensorimotor operation, but rather a process that can never be isolated from the process of constituting the subject. We find a similar notion in what the composer John Cage said in a television interview conducted with him in 1992: "When I hear what we call music, it seems to me that someone is talking, and talking about his [sic] feelings or about his ideas […]. But when I hear traffic, […] I don't have the feeling that anyone is talking. I have the feeling that sound is acting, and I love the activity of sound." Cage's comment touches upon something profound: he doesn't want to hear, in sound, someone talking to him. He refuses to listen, in sound, to a voice talking about personal feelings and ideas. But maybe he would have nothing against listening to another kind of voice in sound: the voice of no one or everyone, i.e. the silence. During this seminar, we will listen to some recordings, which we ourselves will have captured. Through listening to recordings and discussing them, we will try to explore different modes of listening and different modes of subjectivation. We will try to reflect not only on sound, but also on the listening subject.




Closed seminar | Not I with Mirene Arsanios

"You know the book "Iron and Silk" where the English teacher asks a class of Chinese students to describe their most memorable experience? One of the students hesitates and hesitates and finally says that his most memorable experience was when his wife went to Beijing and ate duck there." Lydia Davis, Bomb Magazine, Summer 1997.

"You have become trapped in an echo-chamber. But all you see and hear is you." Adam Curtis

"I" is the matrix through which the lived world is apprehended, understood, sensed. Although at times necessary, the equivalence and occasional collapse between self and world isn't of a natural order; selfhood is an assemblage, and an ideological product construed through interpellation, capital, social as well as sexual norms.

Fiction, poetry and the essay all inhabit a particular and relatively well defined "I". Though the history of the first person and "techniques of the self" are beyond the scope of this seminar, we will be looking at the ways in which the "first personaI" operates within a text, how the subject is textual. What literary genres and conventions feed into the formation of the first person? Fiction, poetry, and the essay all inhabit a particular and relatively well defined "I".

Some feminist and female authors have unsettled this seemingly cohesive and universal self (often male, white, Western) by experimenting with the categories that inform it, bending literary genres and by combining autobiography with fiction (Chris Kraus), using appropriation (Kathy Acker), and questioning the confessional as a true and authentic expression of the self.

We will read some of these authors closely, looking at how the techniques they use trouble the reader's identification with the narrator, both by alienating and implicating the reader in the text. We will pay attention to the overlaps between reading, writing, and listening, as the authorial voice moves across and inhabits multiple selves. We will extend these questions to art; how is authorship produced and the artist self performed? How is the figure of the artist commodified, valued, and exchanged within a certain art economy? What "self" are they expected to perform? How are artists expected to speak, write, and articulate themselves in the world? Can this be re-written?