Open Studios: HWP 2015-16
past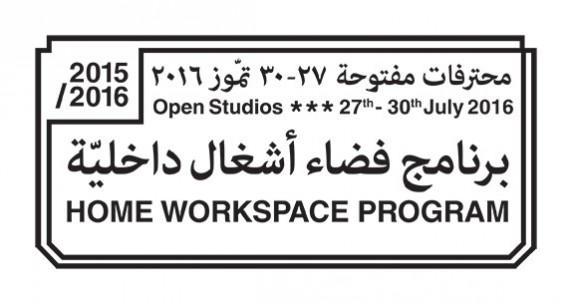 المزيد من المعلومات More Info
تسرّ «أشكال ألوان» دعوتكم للمحترفات المفتوحة للمشاركين في «برنامج فضاء أشغال داخلية»:
أحمد الغنيمي وباريش دوغروسوز وبهار نوري زاده وريڤرز پلاسكيتيس وسارا يزداني راد وليڤي أورتا ولين قديح ومحمد برّو ومصطفى جندي ومهدي براغيثي وموتشو ومونيكا بصبوص وميرڤه إرتوفان.
تأتي المحترفات المفتوحة في سياق «برنامج فضاء أشغال داخلية» للعام ٢٠١٥-٢٠١٦:
«من العجائبي إلى الدنيوي»
الصورة لسارا يزداني راد، ٢٠١٦
Ashkal Alwan is pleased to present the Home Workspace Program 2015-16 Open Studios, with participants:
Mahdi Fayez Baraghithi, Monica Basbous, Mohammed Berro, Baris Dogrusoz, Merve Ertufan, Ahmed Elghoneimy, Mustapha Jundi, Lynn Kodeih, Mochu, Bahar Noorizadeh, Levi Orta, Rivers Plasketes,  Sarah Yazdanirad. 
The open studios are part of HWP 2015-16 |
From the Miraculous to the Mundane.
Image: Illustration by Sarah Yazdanirad, 2016
أوقات المعرض

الأربعاء ٢٧ تموز:
٦ – ١٠ م | الافتتاح
الخميس ٢٨ تموز:
١٢ – ١٠ م
الجمعة ٢٩ تموز:
١٢ – ١٠ م
السبت ٣٠ تموز:
١٢ – ٨ م


المحاضرات
(باللغة الانكليزية)
الخميس ٢٨ تموز
٦:٣٠ م | «الخليّة وجغرافياتها السياسية» د. مروان الصبّان
٧:٣٠ م | «الكلب في بيته أسد» أحمد الغنيمي

الجمعة ٢٩ تموز
٦:٣٠ م | «فوكو – أعمال مقاومة» فارس شلبي
٧:٣٠ م | «بعيداً عن أعمال تؤتى بإتقان بريء» بهار نوري زاده
٨:٣٠ م | «على الواجهة لم يعد بمقدورنا أن نراه…» موتشو


Opening hours

Wednesday 27 July:
6 – 10pm | Opening night
Thursday 28 July:
12 – 10pm
Friday 29 July:
12 – 10pm
Saturday 30 July:
12 – 8pm


Talks and lectures

Thursday, July 28:
6:30: "Geopolitics of the cell" by Dr. Marwan El Sabban
7:30: "Dog Star Man" by Ahmed Elghoneimy

Friday, July 29:
6:30: " Foucault – Acts of resistance" by Fares Chalabi
7:30: "Breaking from actions that are executed with guiltless precision" by Bahar Noorizadeh
8:30: "At the facade we could see him no more…" by Mochu