Public Talk | The Urban Re-Construction of Space under the Mamluks by Howayda Al-Harithy
past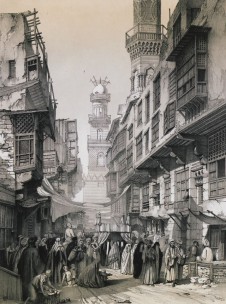 19 February 2018
Time:

8:00 pm
Event Type Public Talk
Location Ashkal Alwan CHECK THE MAP
Image: Robert Hay, Illustrations of Cairo, Tilt and Bogue, London, 1840.
The Urban Re-Construction of Space under the Mamluks
Monday, February 19, 2018 | 8 PM
The paper is a reading of space in Mamluk architecture, not based on a formal analysis of systems of geometric planning, scale and proportions; but a reading of space based on Henri Lefebvre's prescription. It is a reading of space in Mamluk architecture as a "product" developed over time and not a "work" created in a single moment or by a single idea. Building of Lefebvre's argument that every society produces its own space, which it bases on the space of the preceding period and preserves as a substrate and a prop for its symbols, Mamluk space is investigated as a social urban space that stands not as an independent formal entity, but as a dynamic fluid product that is constantly reproduced through the actions of both the individual and the collective. The paper will focus on the production of space in Bayn al-Qasrayn at the heart of Medieval Cairo. It will investigate the process through which Mamluk urban complexes, such as that of Qalawun, reconstruct and redefine the space over time. The investigation will apply Lefebvre's conceptual triad in its analysis: "Spatial practice," "representations of space," and "representational space" as the determining factors that are in a dialectical relationship in the production of space. This public lecture is part of the
Home Workspace Program 2017-18
.