Public Talk | What is the Sum of a Son and a Son – In a Dream? with Jalal Toufic
past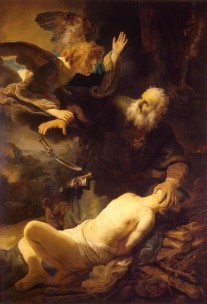 14 December 2017
Event Type public lecture
Location Ashkal Alwan CHECK THE MAP
Image: Rembrandt van Rijn, Sacrifice of Isaac, 1635
What is the Sum of a Son and a Son – In a Dream?
December 14, 2017 at Ashkal Alwan | 8 PM
In Chapter VII of his
The Interpretation of Dreams
, titled "The Forgetting of Dreams," Freud ignores or forgets one form of the forgetting of dreams: not forgetting a smaller or larger part of the content of the dream, but forgetting that a certain image, command, warning or request came to one in a dream. One of the most remarkable examples of such a forgetting of the dream is encountered in the Biblical version of God's command to Abraham to sacrifice his son.
This public lecture is part of
the Home Workspace Program 2017-18
.
About Jalal Toufic
Jalal Toufic is a thinker and a mortal to death. He was born in 1962 in Beirut or Baghdad and died before dying in 1989 in Evanston, Illinois. Many of his books, most of which were published by Forthcoming Books, are available for download as PDF files at his website: http://www.jalaltoufic.com. He was most recently a participant in the Sharjah Biennial 11, the 9th Shanghai Biennale, Documenta 13, Art in the Auditorium III (Whitechapel Gallery …) and Six Lines of Flight (San Francisco Museum of Modern Art). In 2011, he was a guest of the Artists-in-Berlin Program of the DAAD.