Some Stories from the Sultan Gallery
-
Presentation by Kristine Khouri
past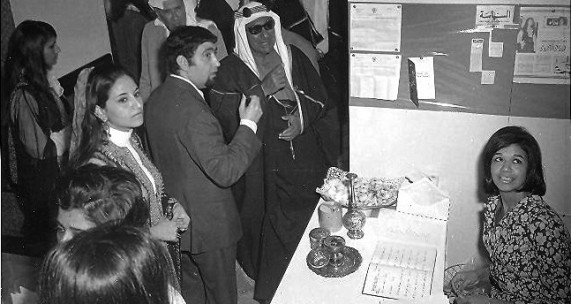 24 January 2014
Time:

8:00 pm
Event Type Public Talk
Location Home Workspace CHECK THE MAP
MORE INFO
This event is part of the second chapter for Home Workspace Program 2013-14, led by resident professors Jalal Toufic and Anton Vidokle.
For more information on the second chapter and the year's schedule and curriculum, please see
HWP 2013-14
.
Friday, January 24, 2014
8pm | public: Presentation by Kristine Khouri
Some Stories from the Sultan Gallery
March 25, 1969 marked the opening of the Sultan Gallery, the first professional Arab art gallery in the Arab Gulf. Founded in Kuwait City by a young and dynamic brother and sister duo, Ghazi and Najat Sultan, the gallery's mission was to exhibit the work of "modern young Arab artists" in a region with a weak arts infrastructure. The gallery was a personal and family initiative but was located within a regional network of Arab art galleries, spanning from Beirut to Rabat. Introducing early-career artists to a new city while educating the growing public in Kuwait, the Sultan Gallery spurred the development of some of the earliest personal and institutional collections of Arab Art. The talk will present the origins of the gallery, its programming as well as stories from artists and collectors who reflecting on its significance.
Image:
Courtesy of Sultan Gallery Archives; March 25,1969, Opening night of the inaugural exhibition of works by Munira Al-Kazi & Essam El-Said
Kristine Khouri
(b. 1984, USA) is an independent researcher, writer and photographer based in Beirut, Lebanon. As a researcher she has contributed to projects by artists Walid Raad, Akram Zaatari and Joana Hadjithomas and Khalil Joreige. As a writer she has contributed to Bidoun, Art Asia Pacific Almanac, The National (Abu Dhabi), and a publication for Art Dubai's Global Art Forum 6: The Medium of Media's publication "TL; DR, Some Medium Stories." Her own research has focused on modern art history in the Arab world, and she is a co-founder with Rasha Salti of the History of Arab Modernities in the Visual Arts Study Group, a research platform focused around the social history of art in the Arab world. They co-authored a paper, "Beirut's Musée Imaginaire:
The promise of modernity in the age of mechanical reproduction" on the history of a 1957 exhibition of reproductions. Their current project is focused around the history of "The International Art Exhibition in Solidarity with Palestine" which took place in Beirut in 1978, to be a documentary exhibition at the MACBA, Barcelona. Kristine is working independently on the history of the Sultan Gallery, Kuwait as part of an exploration of Pan-Arab sites and events of the 1970s, and as part of a residency with ArteEast at the Sultan Gallery in 2012 she curated "The Founding Years (1969-1973): A Selection of Works from the Sultan Gallery Archives" the Sultan Gallery, Kuwait.
GETTING THERE
Ashkal Alwan | Home Workspace
Jisr el Wati, Street 90, Building 110, 1st Floor
Near Souk Al Ahad, facing IMPEX Garage, Pink Building next to Beirut Art Center
Phone: +961 1 423 879
www.ashkalalwan.org