Source – (Filter) – Output
-
Seminar with Iman Issa
past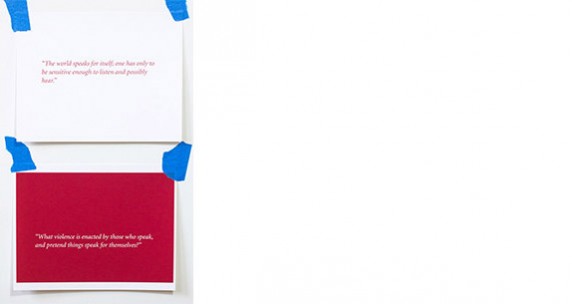 31 May 2016
Time:

2:00 pm - 5:00 pm
1 June 2016
Time:

2:00 pm - 5:00 pm
Image Caption:
Iman Issa, Notes, 2016
Draft for the two sides of a flip lenticular print
Photograph
MORE INFO
May 31st and June 1st , 2pm–5pm | closed

Source – (Filter) – Output
Source – (Filter) – Output
is a two-day seminar addressing the varied relationships creative practitioners may assume towards their source material. Delving in between the clear divides of language and event, reading and writing, analysis and creation, we will try to touch on some of the implications of creative output and the role of the subject behind or contiguous to it. We will consider some of the filters creative practitioners may apply towards their source material, the type of systems and structures they may evoke to support their generation of forms and content, and how these processes and choices may, in turn, serve as the basis for the renunciation or assumption of authorship.
Readings for Day 1:
– Weizman, Eyal (2015)
The Conflict Shoreline
, Gottingen: Steidl
– Bahrani, Zainab (2003) Being in the Word: Of Grammatology and Mantic.
The Graven Image
(pp. 96-120). Philadelphia: University of Pennsylvania Press.
– Ayache, Elie (2010) Writer of The BLANK Swan.
The Blank Swan
(pp. 3-29). West Sussex: Wiley.
Readings for Day 2:
– Silverman, Kaja (2009) Photography by Other Means.
Flesh of My Flesh
(pp. 168-221). Stanford: Stanford University Press.
– Bergson, Henri (1991) Of the Survival of Images. Memory and Mind.
Matter and Memory
(pp.133-177). New York: Zone Books.
– "On Using "I" and First Person Narration: Moyra Davey with Iman Issa."
Makhzin
23 April 2016: Online
Some Notes:
"I paint with my back to the world. I have a vacant mind in order to do what the inspiration calls for. And I don't start to paint until after I have an inspiration, and after I have it I make up my mind that I'm not going to interfere, not going to have any ideas."

"The secret is the strictly unreflected upon form of truth. It never reaches a consciousness or vanishes when it does."

"Some say numbers are not constructed by us, but are already there waiting for us to find our way to them. Counting rules might enable me to plod successfully from 1 to N, naming each number as I reach it, but who is to say that the button waiting for me to the immediate right of the button named N is indeed the button named N+1. In Funes the Memorious, Jorge Luis Borges writes about a man who constructs a counting that is not a system of counting, a counting that makes no assumptions about what comes next after N."
The seminar with Iman Issa is part of 
HWP 2015-16: From The Miraculous to the Mundane
.