"The Act of Killing" by Joshua Oppenheimer
-
film screening
past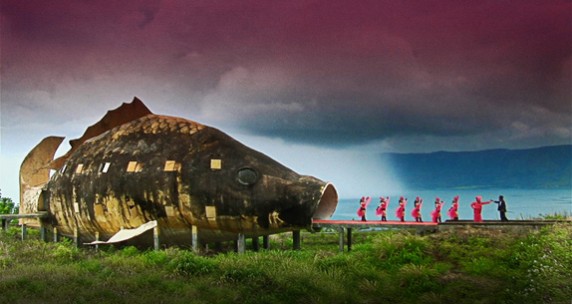 3 April 2014
Time:

4:00 pm
Event Type Film screening
MORE INFO
This event is part of the third chapter of Home Workspace Program 2013-14, led by resident professors Jalal Toufic and Anton Vidokle.
For more information on the third chapter and the year's schedule and curriculum, please see
HWP 2013-14
.
Thursday, April 3, 2014
Public | 4pm
The Act of Killing
by Joshua Oppenheimer
2012, DCP, 2h 39min
Language:
: English and Indonesian with English subtitles
When the government of Indonesia was overthrown by the military in 1965, more than one million people were killed in less than a year. Anwar and his friends were promoted from ticket scalpers to death squad leaders, and Anwar killed hundreds of people with his own hands. In
The Act of Killing
, Anwar and his friends agree to tell us the story of the killings. But their idea of being in a movie is not to provide testimony for a documentary: they want to be stars in their favourite film genres – gangster, western, musical. They write the scripts. They play themselves. And they play their victims.
The Act of Killing
is a nightmarish vision – a journey into the memories and imaginations of the unrepentant perpetrators and the shockingly banal regime of corruption and impunity they inhabit.
Joshua Oppenheimer
(b. 1974, USA) has worked for over a decade with militias, death squads and their victims to explore the relationship between political violence and the public imagination. Educated at Harvard and Central St Martins, his award-winning films include
The Globalization Tapes
(2003, co-directed with Christine Cynn);
The Entire History of the Louisiana Purchase
(1998, Gold Hugo, Chicago);
These Places We've Learned to Call Home
(1996, Gold Spire, San Francisco) and numerous shorts. Oppenheimer is Senior Researcher on the UK Arts and Humanities Research Council's Genocide and Genre project and has published widely on these themes.
GETTING THERE
Ashkal Alwan | Home Workspace
Jisr el Wati, Street 90, Building 110, 1st Floor
Near Souk Al Ahad, facing IMPEX Garage, Pink Building next to Beirut Art Center
Phone: +961 1 423 879
www.ashkalalwan.org