The loudest muttering is over
-
led by Resident Professor Walid Raad, with Alexandre Kazerouni, Maria Lind, Eungie Joo and Andrea Salvini
past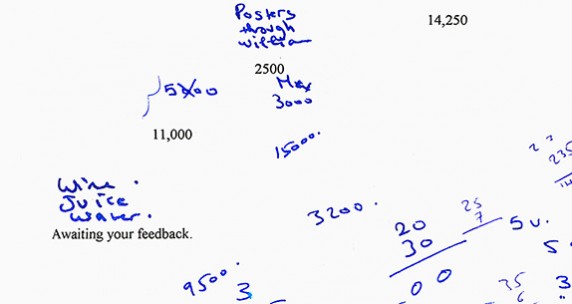 6 - 16 January 2015
Event Type Workshop
Location Ashkal Alwan CHECK THE MAP
Image: detail from A history of a budget
by Walid Raad, 2009
MORE INFO
For the past seven years, Walid Raad has been working on an art project titled
Scratching on things I could disavow
which proceeds from the recent emergence of new infrastructures for the arts in the MENASA region, with particular emphasis on recent developments in Lebanon, UAE and Qatar. Raad's project engages the concepts, gestures, and forms made possible by these infrastructures as well as their ideological, economic, historical, and political frames. Raad's workshop will parallel his own ongoing inquiry and interests and as such will include lectures, presentations, and interviews with the artists, writers, theorists, historians, activists and others who continue to inform his project.
The loudest muttering is over
is Workshop II of
HWP 2014-15: Setups / Situations / Institutions
.
The lecture is open to the public. Registration for the workshops is now closed due to limited capacity.
PROGRAM
TUESDAY, JANUARY 6
8 – 10 pm | public:
The Political Sociology of a Louvre in Abu Dhabi
lecture by Alexandre Kazerouni
WEDNESDAY, JANUARY 7
3 – 6 pm |
workshop with Alexandre Kazerouni
THURSDAY, JANUARY 8
3 – 6 pm |
workshop with Maria Lind
FRIDAY, JANUARY 9
3 – 6 pm | closed:
workshop with Eungie Joo
MONDAY, JANUARY 12
2 – 5 pm |
workshop with Andrea Salvini