The Sky Over Beirut
-
Walking tour of the city with Tony Chakar
past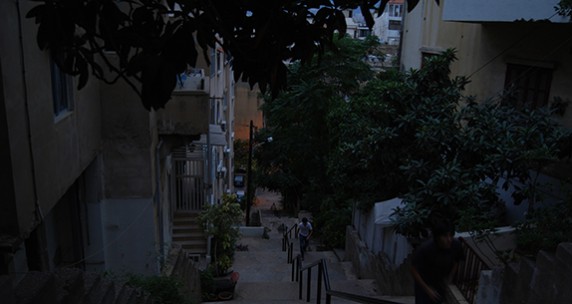 22 November 2013
Time:

5:00 pm
28 November 2013
Time:

11:00 am
Event Type Tour
Location Achrafieh & Downtown Beirut CHECK THE MAP
MORE INFO
This event is part of the opening chapter for Home Workspace Program 2013-14, led by resident professors Jalal Toufic and Anton Vidokle.
For more information on the opening chapter and the year's schedule and curriculum, please see
HWP 2013-14
.
The Sky Over Beirut | Walking tour with Tony Chakar
TOUR 1: ACHRAFIEH | FRIDAY, NOVEMBER 22, 2013 | 5pm
TOUR 2: DOWNTOWN | THURSDAY, NOVEMBER 28, 2013 | 11am
Each tour has a maximum capacity of 20 people. Separate registration required for each of the two tours (please indicate which of the tours you prefer). Registration closes on Wednesday, November 20, and is open only to participants registered for the full
Chapter 1:
Nov. 6 – Dec. 20, 2013. Please email hwp@ashkalalwan.org to register.
The Sky Over Beirut
Walking as a series of controlled falls. Walking as a means to redeem what has been lost.
Walking to allow the city to penetrate you through your skin.
Walking to transform what the body touches to extensions of itself.
Walking through other worlds, which are in this one.
Walking on this earth, under this sky.
Tony Chakar
is a Lebanese architect and writer whose work incorporates literature, philosophy, and theory, and has been included in numerous exhibitions internationally. His work One Hundred Thousand Solitudes (2012) is a lecture-performance that examines images that have emerged from the Arab revolutions. Chakar shows how unlikely towns outside of the capital cities in the Middle East, once considered backward and marginal, have now emerged as creative centers of the revolt against political oppressors such as Bashar al Assad. The performance also includes an image of a protester in Tahrir Square holding a sign that reads: "From Egypt to Wall St. Don't be afraid. Go ahead," demonstrating that Egyptian citizens are vocal and willing to encourage their counterparts in Western democracies to voice their opposition to current representations of authority and power. Chakar contributes to art and architecture magazines and teaches history of art and architecture at the Académie Libanaise des Beaux-Arts, University of Balamand, Beirut.
GETTING THERE
Ashkal Alwan | Home Workspace
Jisr el Wati, Street 90, Building 110, 1st Floor
Near Souk Al Ahad, facing IMPEX Garage, Pink Building next to Beirut Art Center
Phone: +961 1 423 879
www.ashkalalwan.org