The Sunday Brunch Market
-
at Ashkal Alwan Café
past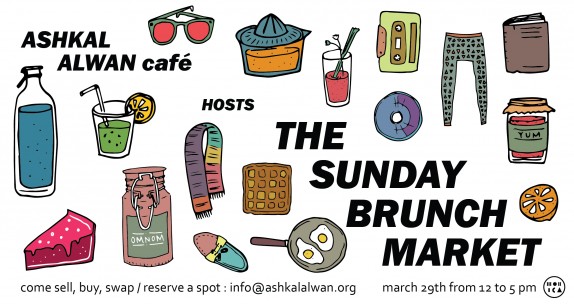 28 March 2015
Time:

12:00 pm - 5:00 pm
Event Type SUnday Brunch Market
Location Ashkal Alwan Café CHECK THE MAP
More info
Ashkal Alwan Café hosts the upcoming Sunday brunch market on March 29 from 12 to 5 pm.
Come sell, buy and swap books, music, new or used clothes, food, crafts – eat, drink, listen to our Sunday Selection of music and hang out!
PARTICIPATION IS FREE.
Drop us an email at
info@ashkalalwan.org
to reserve a spot if you need one.
* The café will be serving a starter brunch menu at affordable prices, including waffles,
foul
, fresh eggs,avocado toasts and sangria, etc.
GETTING THERE
Ashkal Alwan | Home Workspace
Jisr el Wati, Street 90, Building 110, 1st Floor
Near Souk Al Ahad, facing IMPEX Garage, Pink Building next to Beirut Art Center
Phone: +961 1 423 879
www.ashkalalwan.org