The World and the Movement of Images
-
led by Resident Professor Ghassan Salhab, with Chakali Saad, Walid Sadek, Ghalya Saadawi, Mohamed Soueid and Tariq Teguia
past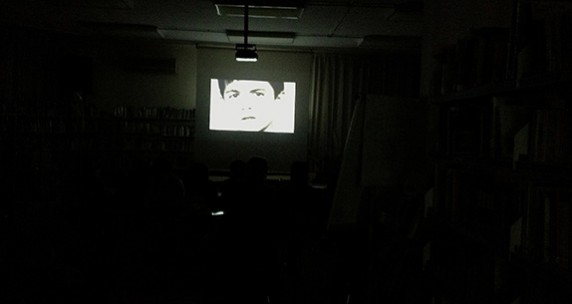 23 November - 18 December 2015
Event Type Seminar, Workshop
Location Ashkal Alwan CHECK THE MAP
MORE INFO
More than ever, we are faced with the question of the image. What are these
images
that we produce, that we invoke, that we watch, and that are watching us? We are at once the creators, the producers, the actors, the witnesses, and the audience of this
spectacle
. What is, then, this
movement
of the images that never ceases to haunt the world? What is, then, this
gesture
? What is it
capable of
, as with Spinoza who wished to know what a body is capable of. Questions, or rather inquiries, which we will attempt to raise again and again by way of workshops, seminars, and talks. Saad Chakali, Walid Sadek and Tariq Teguia will accompany us, on account of their different views and work approaches.
With guest speakers Saad Chakali, Walid Sadek, Ghalya Saadawi, Mohamed Soueid and Tariq Teguia.
The World and the Movement of Images
is Workshop I of
HWP 2015-16: From The Miraculous to the Mundane
.
Seminars and workshops have limited capacity and require registration.
Please register separately for each program by sending an email to
hwp@ashkalalwan.org
.
PROGRAM
NOVEMBER 23 – 27 | closed
That the Image is an encounter
– Seminar with Walid Sadek
Rather than a semiological approach to the image as text, as an encoded code to be decoded, as a sign to be read and consumed or as representation, this seminar proposes the
Image
as an encounter with appearance, with apparition and with formlessness.
The seminar begins with an extrapolative reassessment of the ontological claims of analog photography and the Byzantine iconological theory of
likeness
as theorized or rather theologized by Patriarch Nikephoros (c. 758 – 828) and then opens unto a series of theses on the Image as encounter and therefore as that which exceeds or eludes the control, intentions and purviews of the seeing-subject and/or maker-subject.
The seminar will delve into such questions as: Can the image exist if irreferential? What is the optical unconscious and what is optical truth? How can the Image be distinguished from the allegedly un-representable? And how can the image restore our fidelity to the world?
WEDNESDAY, DECEMBER 2
2pm – 5pm | closed
Representation, critique, political modernism: One take on art in Lebanon
– Seminar and discussion with Ghalya Saadawi
This short seminar will explore some questions and theoretical considerations around witnessing and representation as they relate to art in the aftermath of a violent Lebanese civil war, and its insidious continuation in the post-Taef years. It will emphasize how a form of critique was enabled – at least early on – through tactics that we argue belong to waves of political modernism. This will help us rethink terminologies and ways of historicizing that had become part of a common, yet sometimes imprecise vocabulary, and the consequences of this on the present and future.
THURSDAY, DECEMBER 3

2 – 6pm | by registration
Screening:
Civil War
(2002) by Mohamed Soueid, followed by discussion
For many years, Mohamed Doaybess worked as assistant director and production manager for a large number of Lebanese filmmakers. In winter 2000, he left his home in the southern suburbs of Beirut and never came back. After several months of disappearance, his body was found in a deserted war-torn building. Reasons are still unknown. The film depicts Mohamed's experience and his tragic death.
FRIDAY, DECEMBER 4
11am – 1pm | public
Screening:
Histoire(s) du cinema
(1988) by Jean-Luc Godard (1)
MONDAY, DECEMBER 7
11am – 1pm | public
Screening:
Histoire(s) du cinema
(1988) by Jean-Luc Godard (2)
DECEMBER 4 – 9
3pm – 6pm | by registration
A Godardian montage of archives: A practice of emancipatory an-archism?
– Seminar with Saad Chakali
We will explore how there is no existing
image
outside the montage of various documents; how there is no montage unless these documents that are to be compared, are set alongside each other and revealed (since
the image will come during the time of resurrection
) on the basis of their archival heterogeneity (newsreels and classic film excerpts; shots filmed by the filmmaker and other pictorial citations; literary and photographic excerpts; television reportage and graphic interventions by the filmmaker). Thus, there is
montage
and therefore
image
based on the following three principles: an aesthetic premise (the archives or the cited documents that are being compared are equal); an ethical imperative (one is free to place any archival document next to any other); and a political necessity (a fraternity among metaphors exists when what is missing is an archival document can be replaced by the one paired with it). Then, and only then, can the archive be understood in its inverse or negative form, through that which is faulty or missing within it (the 'anarchive', as Jacques Derrida would have called it). Thus, it is held by a perpetual repetition or 'beginning', from the moment it is dissociated or deactivated from all commandment or authority (the divided
arkhè
is the very an-archiste aspect of the artist).
THURSDAY, DECEMBER 10
8pm – 10pm | public
A Godardian montage of archives: A practice of emancipatory an-archism?
– Talk with Saad Chakali
DECEMBER 14 – 18
Monday 2pm – 5pm and Tuesday – Friday 11am – 4pm | by registration
Wasteland
– Workshop with Tariq Teguia
Nothing is clearer than a territory, nothing more fixed, yet alterable and undefined all at once. Any territory, interior or exterior, is a kind of flux, otherwise it ceases to exist. How can one comprehend this movement and its 'disappearance'. How does one capture this in-between-ness; the in-between of two worlds? In its borders, its expansions, its contractions, the city Beirut – in its very cliché – is this in-between-ness, between-two-worlds. Does the territory where Ashkal Alwan finds itself – this neither in nor out of the city, neither in the metropolis nor in its suburbs— sketch a field of the possible?
SUNDAY, DECEMBER 20
8:30pm – 10:30pm | public
CANCELLED
Screening:
Zanj Revolution
(2013) by Tariq Teguia
Location: Metropolis Cinema, Beirut
While covering community clashes in southern Algeria, Ibn Battuta, a journalist, finds himself picking up the trail of forgotten uprisings against the Abbasid Caliphate. For the purposes of his investigation, he goes to Beirut, allegedly to study the state of the 'Arab nation'. Nahla, a young Palestinian whose family has found refuge in Greece, also heads for Beirut with funds for other Palestinians. In US-occupied Iraq, Mr. Prince is making easy money and, seeking to preserve his loot, he too moves to Beirut. These three will meet, despite tensions, missteps, dead ends, lies, oversights and ever-present ghosts.
Image Caption: courtesy of Ghassan Salhab